Arriving at Cancun Airport can be a bit intimidating for both first time and repeat visitors.
After a long flight, long lines going through immigration and waiting for your luggage, the last thing you will want to worry about is how you will get to your hotel.
There are plenty of transportation options available at Cancun International Airport for travelers that need to get to their hotel. Available transportation options include rental cars, private van or shuttle transportation, taxis, buses and more.
Let's take a look at a few of the most common options that travelers to Cancun typically use for getting from the airport to where they are staying in the hotel zone.
Rental Cars
Taxis
Private Shuttle
Shared Shuttle
Hotel Shuttle
Uber/Lyft
Bus
Cancun Airport Transportation
When you arrive by plane to Cancun Airport you will first need to go through immigration after you deplane.
Most flights from the United States arrive at Cancun Airport Terminal 3 or Terminal 4 depending on which airline you are flying with.
Arriving at Cancun International Airport
After leaving the jetway, travelers will need to walk to the immigration hall. The immigration hall is located on the ground floor of the terminal building. To get there you will follow the signs to immigration.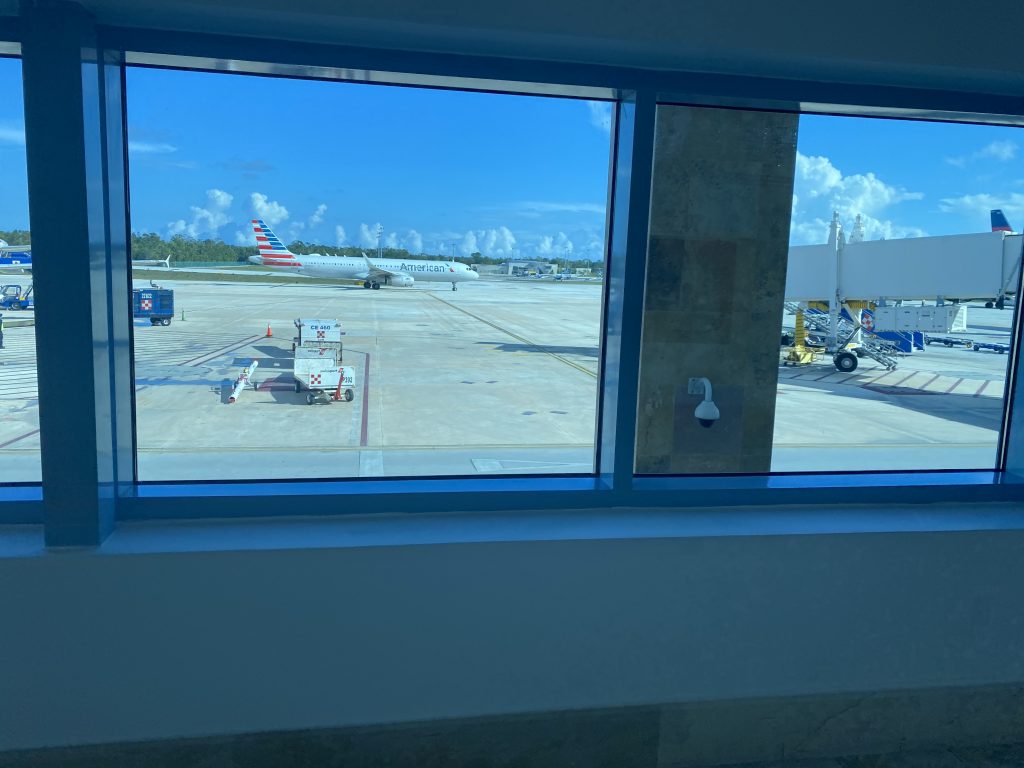 The distance you will need to walk to immigration depends on which terminal and gate at which your flight arrives. Typically, the walk shouldn't take more than 5 to 10 minutes until you reach the escalator down to the immigration hall.
The immigration hall can be intimidating for first time visitors. Arriving passengers need to queue up into potentially long lines to have their passport and immigration forms verified and stamped.
The length of time can vary depending on the time of day, the number of arriving flights, the day of the week or how many immigration agents are working. In my experience, this usually takes less than a half hour.
After your passport and immigration form are stamped you will exit the immigration hall and enter the baggage claim area. If you checked luggage for your trip this is where you will wait to retrieve your bags.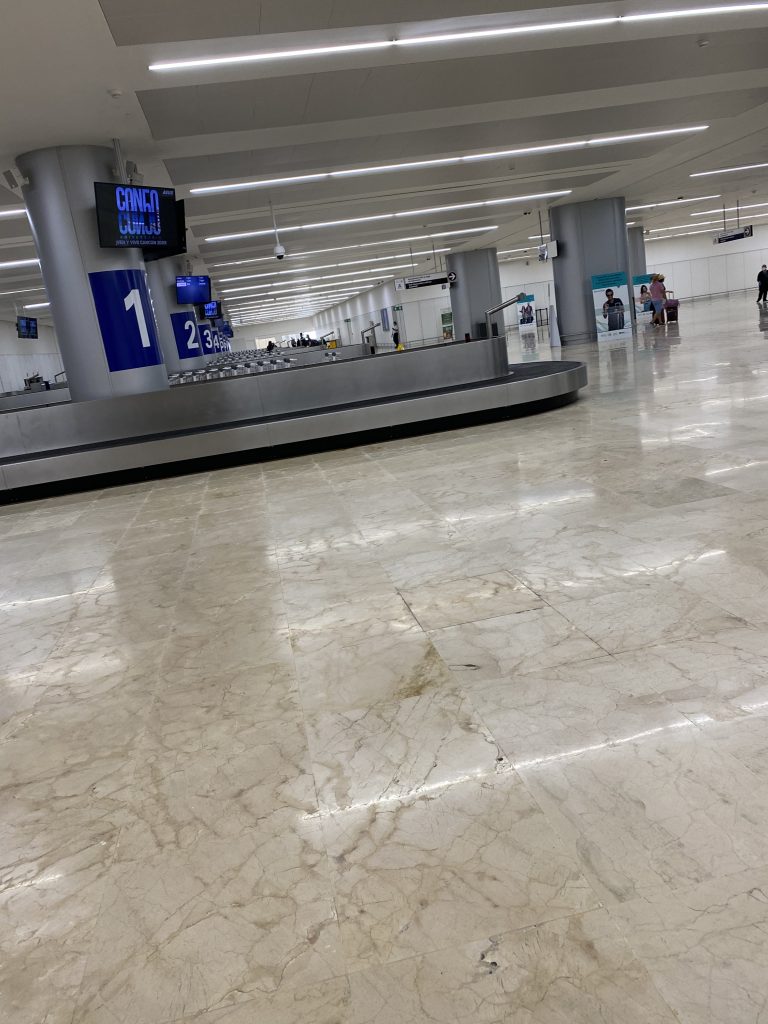 Once you have everything you can exit the baggage claim area by heading towards the sign that reads "Ground Transportation".
Cancun International Airport offers a variety of safe and flexible options for travelers to get to their hotel. There should be several suitable options depending on your needs and your budget.
Ground Transportation at Cancun Airport
After leaving the baggage claim area you will exit into an area of the airport where many of the car rental agencies have a desk. This area can get congested. Expect car rental agents, time share sales people and other's selling transportation services to inundate you when walking through this area. Unless you've got a confirmed car rental reservation, or intend to rent a car from one of these companies, it is best to politely decline and continue walking.
Rental Cars at Cancun Airport
Driving in Mexico can appear similar to driving in the US, but the driving laws and how people drive can be very different.
For most travelers it's not necessary or advised to rent a car. If you have specific plans to travel to other areas via car, then a rental car is a good option.
If you plan to remain at your hotel or resort for the entirety of your visit to Cancun, it is best to avoid renting a car.
Most day trips away from the resorts to nearby areas are best done via tour companies unless you are familiar with driving in the area.
Renting a car from the airport is a logical choice. Be sure to read up on the insurance requirements and related driving laws before committing.
The vast majority of visitors to Cancun will not need to rent a car for their vacation.
Taxis
Taking a taxi from the airport is one of the most popular ways to get to your hotel.
Once outside of the airport you will likely be surrounded by shuttle and taxi drivers offering to take you to your destination. It is easy to find a taxi service here.
Use caution and be prepared to negotiate the rates with the driver before you get in the taxi. Cancun taxi services are regulated. Rates are determined by zones. Depending on your destination expect taxi service to cost $50 to $60 USD.
Taxis are one of the most popular and easiest transportation options from the Cancun Airport to the Hotel Zone.
Private Shuttle
Private shuttle services are very popular in Cancun, particularly in light of COVID-19.
Hiring a private shuttle will bring you from the airport to your hotel efficiently and quickly.
Most of the private shuttles are vans that can comfortably carry up to 8 passengers plus luggage. Private shuttles charge a flat fee to bring people between the airport and the hotels.
Shared Shuttle
A shared shuttle is similar to a private shuttle, but there may be other people sharing your van.
Hotel Shuttle
Some resorts offer private or shared shuttle services from the airport to your resort. Be sure to contact your resort before you get on the plane to find out if they offer airport shuttle services.
Uber, Lyft and Other Ride Sharing Services
Uber, Lyft and other ride sharing services are available in parts of Mexico. However, using Uber, Lyft or other ride sharing services in Cancun, Playa Del Carmen, Tulum and other parts of the Riviera Maya and Quintana Roo can be dangerous.
In Cancun and the surrounding Mayan Riviera area the taxis are highly regulated. To operate a taxi one must be registered and licensed.
Ride sharing services take business away from the taxi drivers. There have been numerous reports of Uber drivers being attacked by taxi drivers while operating in the area.
Tourists have reported frightening experiences where their Uber vehicles have been surrounded, chased, attacked, etc. It's best to avoid Uber, Lyft and other ride sharing services in Cancun.
Bus
The bus system in and around Cancun is very popular with locals and tourists. It's a convenient, cheap, easy and safe way to get around the hotel zone and central Cancun.
There is not a direct bus that goes from the airport to the Hotel Zone. The ADO bus operates from the Cancun Airport to the ADO Bus Station in Central Cancun on Avenida Uxmal.
From the ADO bus terminal you would need to change to either the R1 or R2 bus which goes to the hotel zone.
The cost to take the bus from the airport to Central Cancun is around 100 pesos. It takes roughly 30 to 35 minutes to get to the bus terminal from the airport.
The R1 and R2 buses are local buses that travel between Central Cancun and the Hotel Zone. These buses travel up and down Kukulkan Boulevard, which is the main road through the Hotel Zone.
The bus ride from the ADO bus terminal in Downtown Cancun to most resorts in the Hotel Zone takes about 30 minutes.